---
---
Maxxis Welter Weight 29er Inner Tube
Maxxis Welter Weight tubes are engineered for aggressive riders who require durability in their inner tubes. 
The Maxxis Welter Weight 29er inner tube is a good middleweight, a robust tube that's good for hard-hitting 29er riders.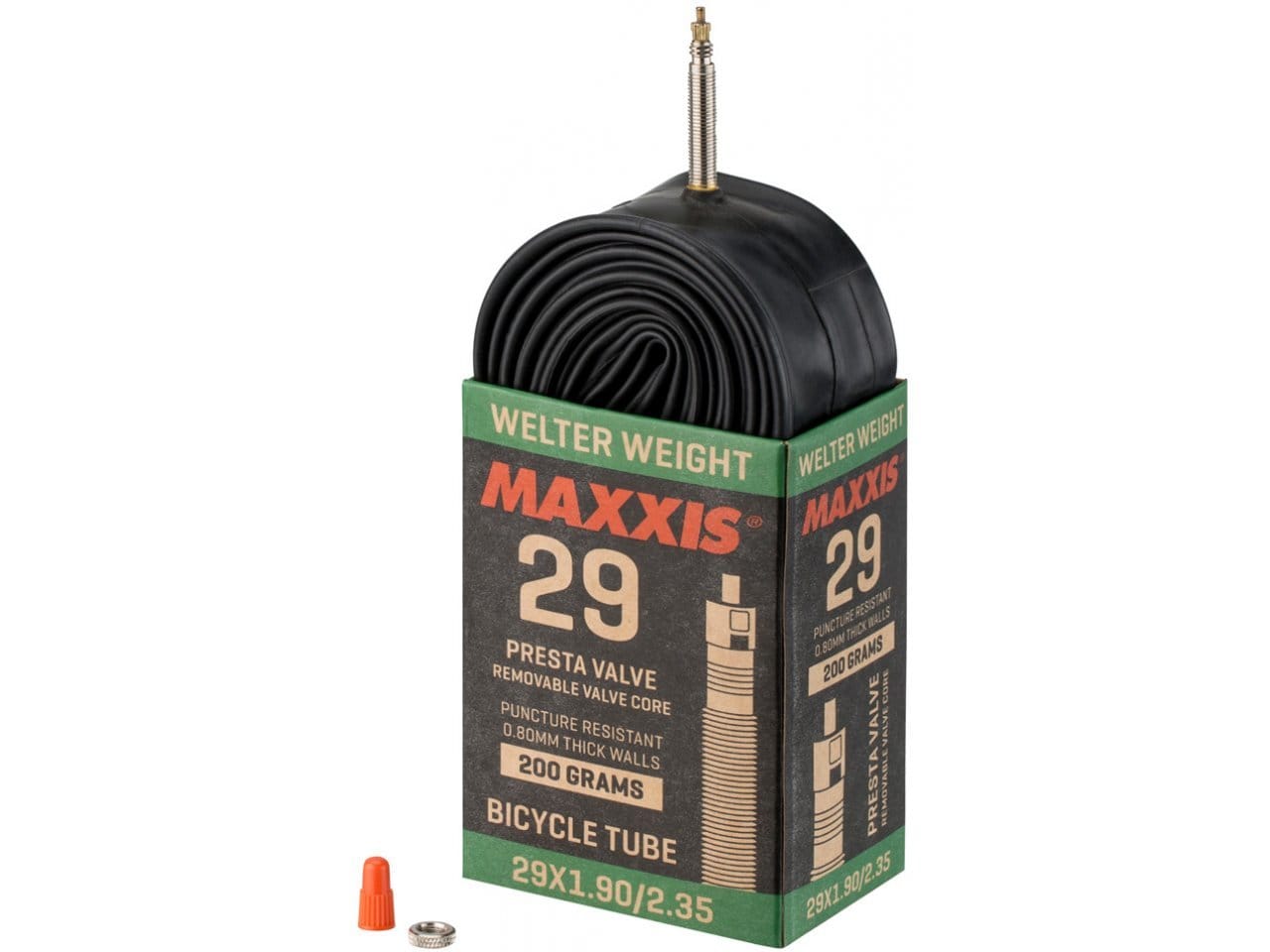 The torus-shaped Butyl rubber hoop has been in use for over a 100 years and, despite improvements to tubeless technology over the past few years (wider choice of tubeless tyres and rims) many people still prefer the simplicity of the humble inner tube. There's no faffing with getting tyres to seal, no spilt tubeless sealant over the garden patio: just pop an inner tube in the tyre, inflate and ride. Easy.
The Maxxis Welter Weight tubes are made from 0.9mm Butyl rubber to give a good balance of weight and puncture resistance. Maxxis market the inner tube at 'aggressive riders' and while lightweight isn't high on the agenda, at 200g they're a fair chunk lighter than a regular tube at 250g. But importantly they're noticeably thicker than the cheap-and-nasty inner tubes that are very often fitted to brand new bikes. So you could save 100g on both wheels with a pair of these inner tubes. If you're concerned about weight though, you're probably tubeless already.
If you are running MAXXIS tyres then you already know how well they  perform. If your looking for the same performance out of your inner then the Maxxis Welter Weight 29er inner tube is a great option.  It is always a good idea to carry a spare inner tube for yourself or a friend in case of a puncture.
Verdict
As good as inner tubes get. The high build quality of the Maxxis Welter Weight 29er inner tube will help you get to where you are wanting to go while worrying less about punctures
---